Seobase, SEO tools that you need
This is a sponsored blog post by seobase. All reviews and opinions expressed here are, however, based on my personal experience.
SEO is an important part of any online business. Paid traffic is a quick way to get instant results but organic traffis is the lifeblood and what you really want to build up. It will keep on giving even when you are not paying.
Seobase is here to help you with that! Today I'm going to walk through a little of what seobase can do for you. You can get started with seobase here.
What it offers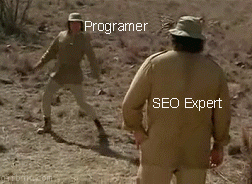 Rank Tracking
Once a domain is entered, you can track all the data for the website based on the keywords selected and their search volumes. You can also easily compare performance for desktop and mobile.
What you really want to know is how much organic traffic potential you have and how it changes in real time. Seobase will show you that!
View more on rank tracking here.
Keyword Management
Add multiple keywords and watch how your site ranks with those keywords.
Seobase will keep track of the rankings position of your keywords over time and gives instant feedback as you enter keywords. It will also show you the search volume history for that keyword. This will help you make sure that you are targeting keywords that are commonly targeted.
View more here.
Getting started
Seobase offers a free plan where it will track one of your domains for FREE. It's very easy to get started, let's check it out!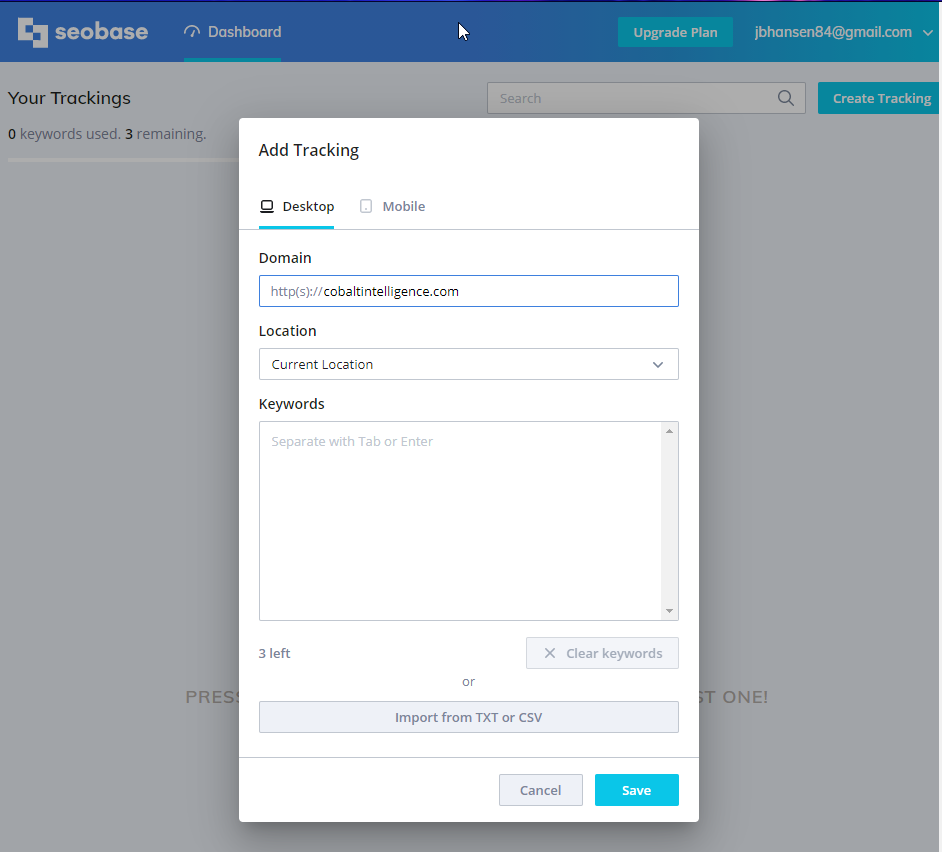 This is the opening page after you've created an account and are starting to track a domain.
After starting to track your domain, you'll instantly get feedback based on some of your selected keywords. In this example, I added Javascriptwebscrapingguy.com and a few sample keywords.

You can see the headers here which are common words in SEO that are often confusing for someone who isn't an SEO expert. The great thing about seobase is that it has great tooltips! For example, hovering over the "Avg." header shows the following: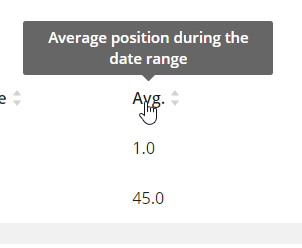 The date range to which its referring is declared at the top of the page and is limited by how long you've been tracking this domain with seobase.

And then with the "Search" header: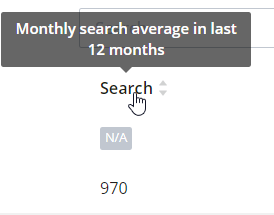 You can clearly see the monthly search average in the last 12 months. Have good tooltips like this really shines in making a difference between an "okay" website and a great one!
A few days later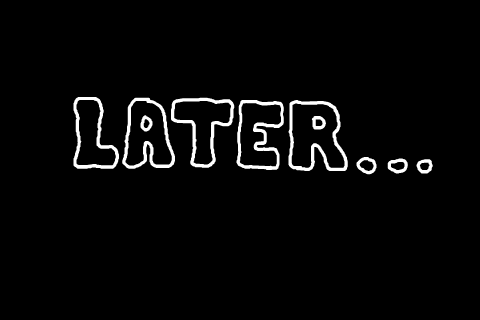 I came back to visit seobase after it had some time to get some history and behold! It looks great!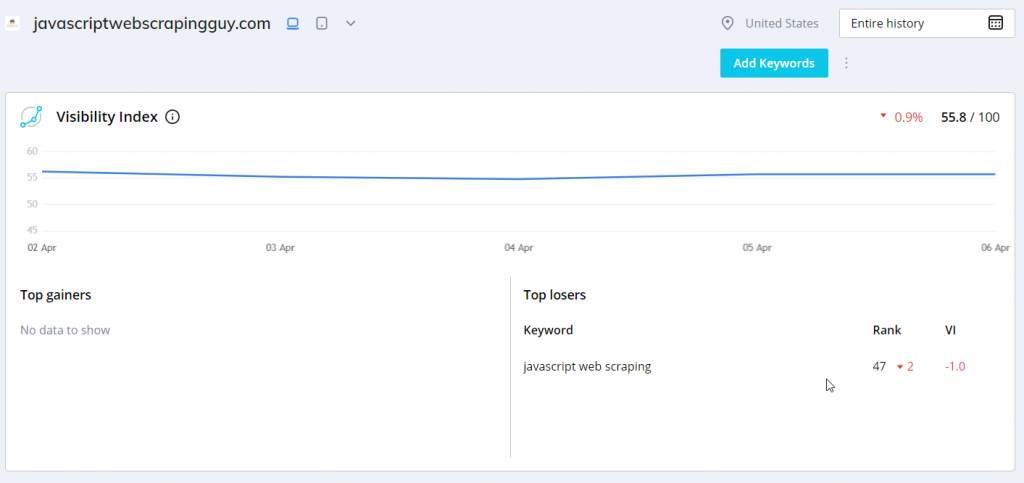 It now has historical data showing how my targeted domain is increasing and decreasing with specific keywords. This will let you see how you are doing and take steps to improve your score.
Another neat thing is you don't necessarily have to track sites that you own. If you wanted to target competitors and see how they are doing in keywords that you also want to target, that could be helpful information. You could see what they are doing and learn from it, making seobase your tool to able to increase in the search engine rankings.
Seobase is a very nice and easy to use tool. Its pricing is incredibly reasonable: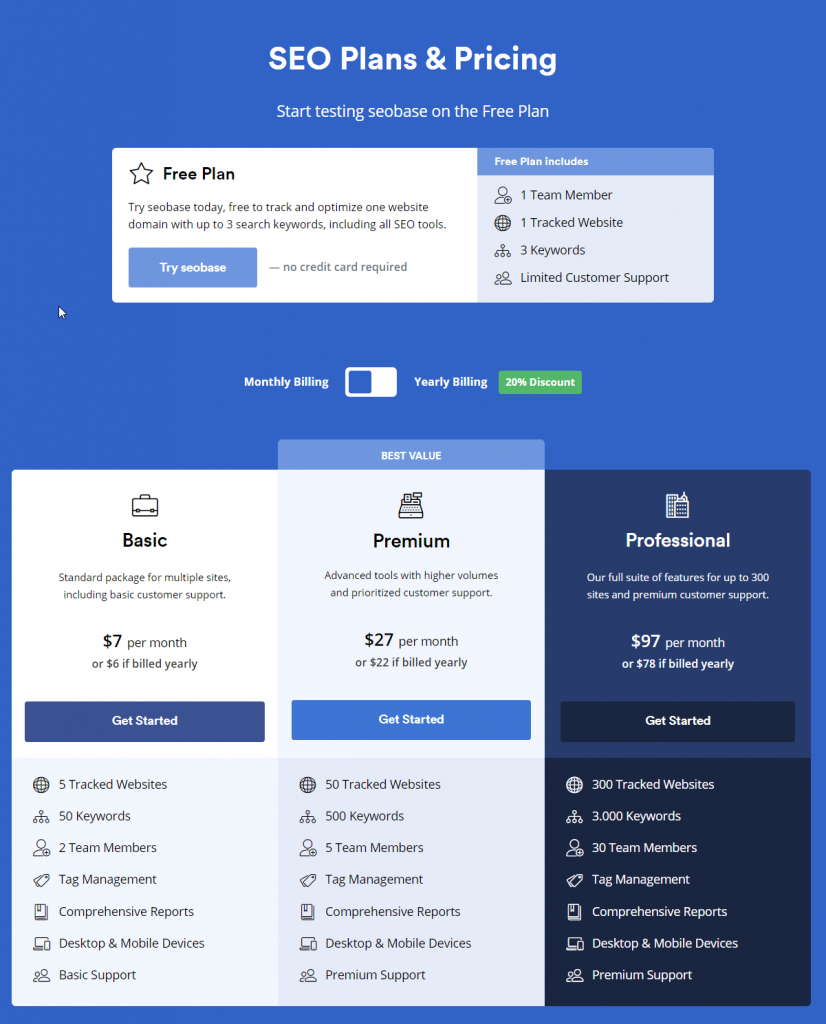 Sign up here!